What are Soundfield Systems
Soundfield systems are speech amplification systems that allow all children to hear the class teacher clearly in all parts of the classroom. The teachers' voice is seamlessly distributed to all areas of the room meaning that no student is put at a disadvantage because they are not in close proximity the teacher.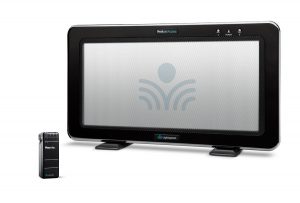 Why do we need Soundfield systems?
There are three main obstacles that need to be overcome to enable the delivery of good learning and understanding in all teaching spaces:
Distance
The clarity of our voice dramatically declines when we are more than 1 metre away from our audience (students). It is imperative that students are able hear and understand what teachers are saying.
Noise
Noise can be generated by traffic outside, other classes within the school, background noise from within the classroom (from the students, the projector or even the heating system).
Reverberation
Echo caused by sound bouncing off of hard surfaces ie Windows, Walls, Celling, doors and furniture. Generally as reverberation increases the harder it is for students to understand the teachers.
The issue of distance exists even in the best acoustically treated rooms and the best way to overcome this is by using a Soundfield system to reduce the effects of distance and improve the signal to noise ratio.

A fixed Soundifled System comprises of a base unit usually located on the teaching wall, a teacher's microphone and speakers, usually four, depending on the size of the room and usually wall mounted.
The teacher uses the microphone providing clear communication throughout the whole classroom evenly distributed by the fixed wall speakers.
The Soundfield base unit is connected to the teachers laptop/PC also providing clear sound reproduction of any video or music content used throughout the day.
As example of a fixed system would be the Lightspeed 955 Access Soundfield – this uses the very latest sound transmission technology utilising a digital signal ensuring no interference or drop out of signal.
955 Access
Installed classroom audio system with teacher microphone that includes a variety of speaker options to best meet the needs of any classroom, or even open spaces and larger areas.
Fixed Soundfield Systems Resources
Portable Soundfield Systems
Redcat Access
All-in-one classroom audio system with a flat-panel speaker design and wireless teacher microphone to deliver highly intelligible speech everywhere in the room.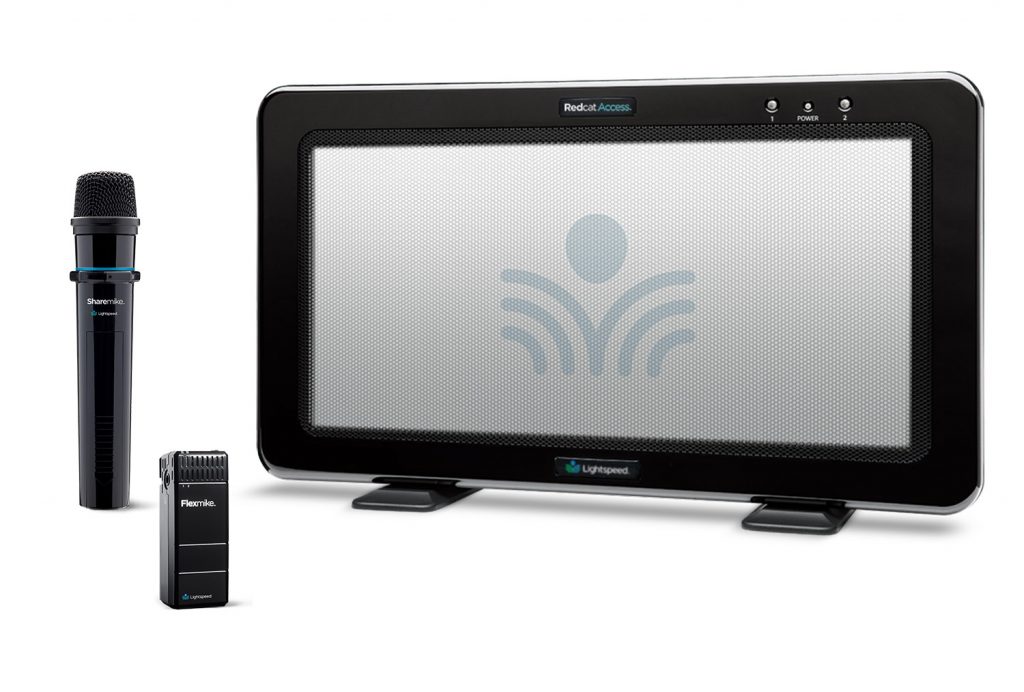 A Simple Way to Bring Clear Audio to any Class
Redcat Access is a simple-to-use solution right out of the box. Its exceptional audio clarity fills the room with the teacher's natural voice, enabling all students to hear every word. With Access Technology, there is no interference with other classroom technologies and has scalability to meet evolving instructional needs.
No installation, saves cost and staff time
Plug it in and begin speaking. No need for costly installation. Redcat's simplicity maximizes your investment in technology.
Flat panel speaker excels in speech intelligibility
Exciter technology fills the room with the teacher's natural voice and enables students to hear every word no matter where they sit in the classroom.
No interference, no dropout, no headaches
Redcat Access works within any classroom configuration and at long distance. And it operates on a bandwidth that eliminates interference with other classroom technology.
Portable Soundfield Systems Resources
Moveable Soundfield Systems
Phonak Roger Digimaster
A Roger Dynamic SoundField system consists of one or more Roger DigiMaster loudspeakers and one or more Roger microphones.
Roger DigiMaster 5000 features
One loudspeaker per class
Unique line-source configuration featuring 12 high-quality loudspeakers for crystal-clear sound
Automated dynamic behavior for optimal signal-to-noise ratios (SNRs)
Adaptive automatic frequency hopping for interference-free sound
Operates with Roger microphones
Sleek design
Wall-mount and floor-stand options
Mini-USB for downloading new features
Indicator light (LED)
Installation-free
For regular sized classrooms Phonak's Roger DigiMaster 5000 fits the bill perfectly. Featuring no less than 12 individual high-quality loudspeakers, all housed in a robust aluminum frame, this single-loudspeaker system offers the ultimate in instant sound performance.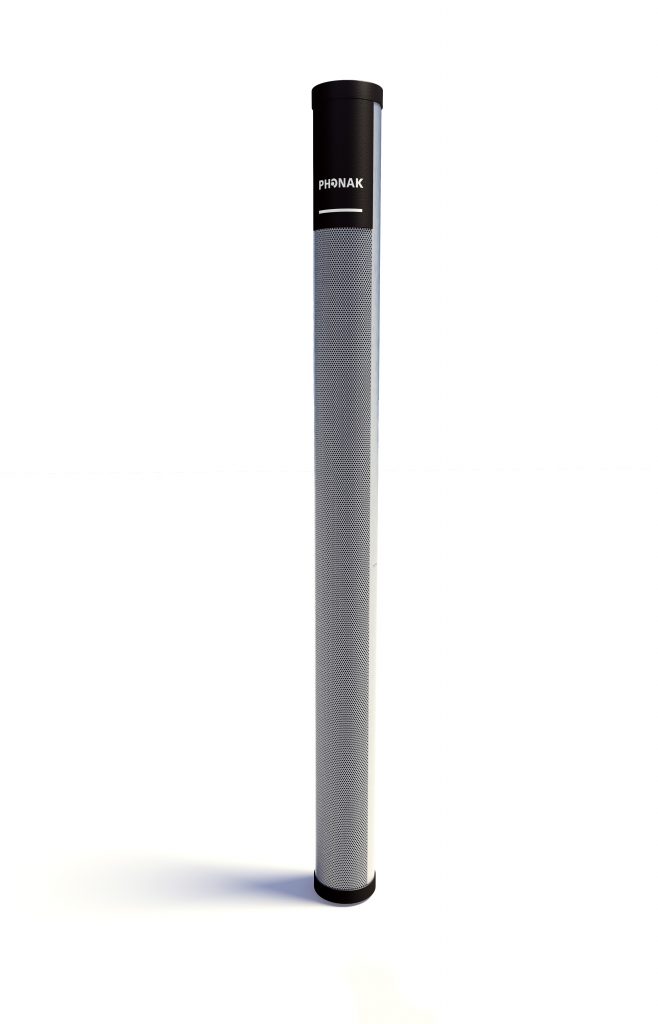 Moveable Soundfield Systems Resources
Which Soundfield System is best for my school?
Getting the correct Soundfield system is crucial for the best results; with so many types of system and technology available it can be difficult to know which one is best for you.
At RG Sound Solutions we provide impartial advice that provides you with the system you need.
 Please call or email, we would be happy to help.